The Angel of Hope Ceremony
The entire community is invited to attend the Candlelight Memorial Service which is held on December 6th each year at 7:00 pm. Those who attend are invited to bring a flower (traditionally a white one but you may bring any color you choose) to leave at the site in memory of your loved one(s). Candles will be provided.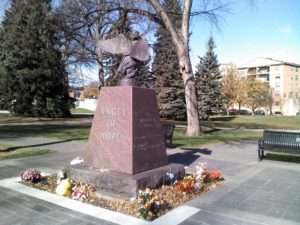 Our Candlelight Memorial Service is held at The Angel of Hope site in Island Park – 1st Avenue S., Fargo, North Dakota.  The statue is located at the north end of the park near the YMCA (between 4th and 7th Streets).  Our ceremony is held on December 6th at 7:00 pm. Remember that candles will be provided for all participants but you should bring your own flowers if you wish to leave one in memory of your child.
Please see our Facebook page for additional information.  If you have any questions, you may email us at angelofhopefargo@gmail.com.